Adventure Racing
Adventure racing on a mountain biking website? Of course! Many adventure races involve mountain biking, so it only makes sense to give Texas adventure racing a little piece of MountainBikeTx.com.
Not familiar with what exactly adventure racing is? Simply put, adventure racing is a combination of two or more disciplines, including orienteering and navigation, cross-country running, mountain biking, paddling and climbing and related rope skills. An expedition event can span ten days or more while sprints can be completed in a matter of hours. [Wikipedia, 2009]
Check out our Races & Events page for upcoming adventure races!
You can also check out our Clubs/Associations pages pages for adventure clubs in your area!
Community


DFW Adventure Racing


Houston Adventure Racing Team (HART)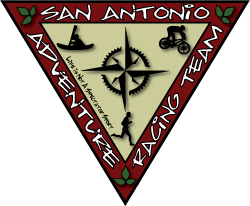 San Antonio Adventure Racing Team


Texas Adventure Racing Club
Promotion


Terra Firma Racing


Texas Adventure Racing
Have a website suggestion for this page?
Click here to let us know.