National & International Organizations
Benefitting Mountain Bikers
Beyond the mountain bike organizations local to you and/or your state, there are numerous other organizations that address the concerns of mountain bikers both nationally and internationally.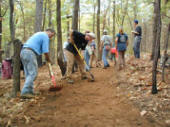 In addition, there are countless other organizations out there that may not be solely working for the benefit of the mountain biker, but whose interests and mission are in sync with that of mountain bikers, such as the Rails-to-Trails Conservancy.
Check out these organizations by clicking below and consider doing something more than the next guy or girl by supporting one or more of these organizations. After-all, they support you!
Photo courtesy of IMBA, October 2000
Mountain Biking-specific Organizations