Beat the Heat

How to Stay Cool in Texas
modified from the original forum threads by EPeff
Make sure you are acclimatized. Only going out in the heat in order to ride is the wrong answer.
Wear as much white clothing as possible to reflect the sun's rays (on the inverse, try not to wear any black clothing if you can help it).
Wear lightweight breathable clothing that wicks away sweat to allow it to evaporate quickly (Nike DriFit, for example).
Wear as little clothing as possible that will still allow for partial sun protection for your skin (short sleeved shirt*/not a wife-beater, low cut socks, shorts, nothing extra unless you wear armor or prefer long sleeves for protection, etc).


* Note: many recommend loose fitting shirts and/or long sleeves for added protection from the sun's heat

Consider a light-colored ventilated helmet with visor vs. a black helmet, if possible.
Wear a bandana (handkerchief) under your helmet to soak up sweat and prevent it from dripping into your eyes while riding. In other words, fold it over several times so its more like a headband/sweatband that is about 2" tall. Place it on your forehead above your eyes and around to the back, just over your ears, leaving the top of your head to get the heat out and the breeze in through the helmet vents. Your helmet will hold it in place.
100 oz CamelBak (or the max capacity you prefer to wear on your back).
Put both (if you have two) water bottle cages to work.
Add ice to your water bottle(s) and to the CamelBak just before leaving to keep the water cool for at least a little while. If you know it will be very hot, consider freezing them completely the night before.
Drink water even when you aren't thirsty. Don't wait until you are thirsty to drink. Also, use commonsense: if you have used up half of your water, you have already passed the half way point of your ride.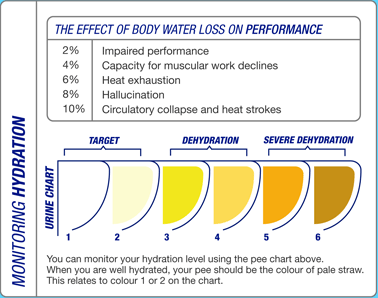 Keep an electrolyte replacement drink in a bottle on hot rides. Water in the CamelBak is good, but you're losing electrolytes, too.


Note: there are many other alternatives besides drinks, use what works for you.

Wear sunglasses that are somewhat ventilated to bring some cool air into your eyes, but not exposed, as the sun can be very bright.
Have extra water in a cooler in the car for a nice cold post ride drink (no, not beer).
Hydrate before you leave, drink more than you think you need, but not too much for that over filled heavy belly feeling. Consider starting a day or two before your ride.
Ride with a partner, if you can (you can use each others water in case of emergency, and one person can be there if there other passes out).
Ride during the cooler points of the day (this means sunrise - morning hours, and the hours just before sunset, though the sunset hours can still be very hot).
Stick with shady trails. Avoid more exposed trails.
Take frequent breaks. Find a shady spot and sit down.
Maintain your bike well and be sure you have everything you need to repair your bike so you don't get caught out on the trail walking out in the heat.
Apply a high SPF sun block to any exposed skin.
Have some proven suggestions of your own? Email the webmaster below and we just might add 'em!
- copied with threads' original author's permission
View the complete threads from the MTBR.com here:
Texas forum | Passion forum