Terry Hershey Park (The Anthills)

Houston, TX
SAVE THE ANTHILLS!
The future existence of the Anthills is threatened!
Click the following links to read more, then do your part to support one of Texas' more unique trails:
GHORBA's Request | Culture Map Houston article
SIGN HERE! >>>>>> Save the Terry Hershey Park Forest Petition <<<<<< SIGN HERE!
Click here for help on how to read this trail guide
Directions:

Length:
Technical Level:
Trail Type:
Configuration:
Trail Map(s):
Fee:
Trails:
Amenities:
Links:
Contact:
Comments:
Photos:
Video:
Trail Review:
9.3 miles (one way)
3
singletrack
out and back
Hike and Bike map | Harris County map
GPS/Google (.kml) | .gpx file
none
Cardinal Trail Loop | Blue Jay Trail Loop | Mockingbird Trail
Quail Trail | Robin Trail | Robin Loop
• Dirt jump area
• Restrooms
• Pavilion
• Picnic areas w/ grills
• Playground
TerryHersheyPark.org | Harris County Precinct Three
(281) 496-2177 - Park Reservations office
Click here to send an email
• Hours: 7:00 a.m. - 10:00 p.m.
• TerryHersheyPark.org provides a Googlemap of parking and trailheads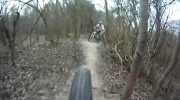 unavailable