28 miles
3
singletrack; ranch road
loops
none
n/a
• Restrooms
• Picnic Areas
• Grills
• Playgrounds
• Observation Decks
• Fishing Pond (catch and release only)
• Camping (by permission only)
• Water
Waiver (Adult) | Waiver (Adult Half) | Waiver (Minor) | Waiver (Minor Half)
Mountain Creek Community Church
(972) 296-8919 - Ray Luedecke (Trail Steward)
• All riders MUST have a waiver form on file. Form is available above and at the trailhead. Waivers are only good for the current calendar year.
• Helmets are REQUIRED!
• DO NOT park in the church lot. Stay in the back gravel area around the transformer station.
• Currently features 3 Downhill runs and a section suitable for Trials.
• Plans include a Freeride section, Pump track, and Skills area.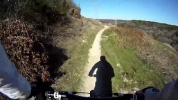 So, when you hear the words "Best Trail in DFW", you might tend to perk up and listen. Chances are they are referring to BCWT.
Big Cedar Wilderness Trail is one of the best trails I`ve ridden in 14 years of riding mountain bikes. The terrain varies from smooth, rolling singletrack to a full on Downhill area that is separate from the XC course. There is also a trials area and dirt jump section if you so desire. And bring your climbing legs for the XC course. The descents are long, but make no mistake...you earn them with some of the most grueling climbs you`ll find anywhere in Texas.
The XC section consists of multiple loops off of one main loop. The main loop (called the White Loop or the Ranger Loop) can be ridden by itself, and there is even a short one mile beginner loop as part of the White. You'll wind your way from the trailhead through some sweet singletrack and a creek crossing or two. The trail opens up to a jeep road descent that gives the speed junkies plenty of room to pedal the big ring. I`ve seen close to 30 mph on this section, but if you`re not up for that kind of speed it`s not technical at all and you can coast along at whatever speed you`re comfortable with. The trail cuts back toward the trailhead with the final short descent. At this point you`ve had a good time and are enjoying yourself. Remember that sensation and hold it dear. As you work your way back up the hill you start to realize how far you came down. A couple of decent climbs let you know there`s a price for the fun you had. Then, while your legs are burning and your lungs are ready to pop, you round a turn and bear witness to the steepest climb you`re likely to ever see in Texas. Roughly 30 yards, and the Garmin says 45% grade. Thankfully, that`s the last of the real torture...on that loop. The rest of the trail is just as epic.
The first off-shoot you come to is the Green Loop. Fun and very windy, not much elevation but a few technical, short climbs.
Yellow (Copperhead Ridge) is next. VERY fun and riddled with dips and banked turns, along with some off-camber stuff. Kinda' like riding a roller coaster. Climbs are moderate to technical.
The Orange Loop (observation section) comes next. The climb up is the most vertical feet of climbing BCWT has to offer. A long, tedious, technical climb gets you up to the observatory, where you can chill out and recover before getting back on and pointing yourself downhill through some very fun technical singletrack.
The next loop is called "Path Down Under", and is probably the most scenic route in the area. Challenging terrain with two fierce climbs end the loop this loop and you`re back on the White loop for a little while before hitting the next one.
SOS/Sting of the Scorpion/Red Loop: The second dedicated downhill run is right off the start of this loop, but is not part of the loop itself (e.g.,, you don`t have to do the DH run to ride this loop). This is a very technical loop; steep descents, sharp turns, and a very sweet, long descent to the bottom of the valley. Another chance to hit close to 30 mph if you dare! At the bottom of the long descent the trail makes a sharp u-turn and points up the ridge under the power lines; a tedious climb, but not technical at all. After winding through some brush you`ll find yourself at the bottom of one of the DH runs. It`s well signed so you don`t go the wrong way. From here you have a very challenging series of about 8 uphill switchbacks, back to back, and a nice recovery segment at the top, followed by a fun but very narrow descent into a creek crossing with a short but steep exit climb. Once you`re up that bit it`s home free with smooth, fast, rolling singletrack leading back to the trailhead.
A new loop has also been cut that`s not off of the White (Ranger) loop, but it does start at the trailhead. It`s the Blue/Texas Sunset Loop. About 1.5 miles, fast, technical, fun descent to...you guessed it: a long climb out. Not very steep, nor technical, but it goes on and on…and on…and on (get the picture?).
All of BCWT's trails are marked very, very well. Every intersection has a sign telling you where you are, what to expect, and how to avoid it if you`re not up for it. There are several bypasses that may be shorter routes, but not necessarily easier ones. There are a few spots that will sneak up on you your first time around, so if you want to go fast right out the gate ride with someone who knows the trail. For every wicked climb there is the reward of a matching downhill for the gravity driven adrenalin junkies (that`s me). If you respect the terrain this could easily become your favorite trail. I know it did for me!
~ JeffB (Aug 2010)